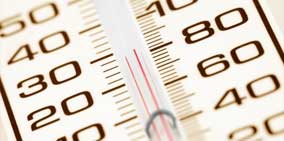 Not too cold, not too hot, Guanajuato's temperature is seriously just right. At a height of 6617ft (2017m), the anything-but-sleepy small city hosts almost-always blue skies -- the perfect background for the colorful façades edging its colonial streets.
In summer you can expect averages in the mid 70°Fs, up to the low 80°Fs (about 26°C) during the day, dropping to a pleasantly cool 59°F (15°C) at night, so minimally you'll want a light jacket or sweater for the evenings, with some long and short sleeves for the days. (Remember these are averages. Some days can get pretty warm and others significantly colder.)
The winter days still get up to an average 70°F (21°C) but can get down to a quite chilly average of the mid 40°Fs (7°C) at night. For this time you'll definitely want something a bit heavier, especially for the evenings.
Often heavy afternoon thunderstorms turn summer months (approximately June to September) into the rainy season. Although we always recommend bringing a rain jacket, Guanajuato's high desert mountain location makes the rest of the year quite dry.
The rainy season is brought in part by hurricane activity on the Mexican coasts, but hurricanes themselves do not hit Guanajuato. Neither do earthquakes. Yet more reasons to go!
Contact us now to be learning Spanish in Guanajuato next week! (Or ask us what else to pack.)
CONTACT US