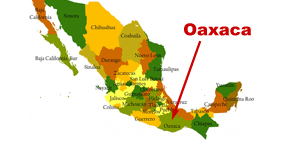 The easiest way to get to Oaxaca is to fly to Oaxaca's one-terminal Xoxocotlán International Airport (airport code OAX), about 15 minutes outside of the city center. There are daily direct flights from Houston as well as from Mexico City and Monterrey. There are also flights to and from Oaxacan beach resort towns of Huatulco and Puerto Escondido.
From the Oaxaca airport either:
Take a taxi colectivo. Between US$4 and $10 one-way. The company, Transporte Terrestre, offers a shared taxi or van. (Be sure it's the colectivo.) Buy a ticket first, and then just present the ticket and the address where you're going to the driver. You'll need some pesos in cash for this. Other people will ride with you but you'll be let off at your own destination. This is the most recommended option.
Rent a car. No school in Oaxaca will recommend this really, simply because it's just so easy to get around without a car. But we understand that having your own car does allow you some freedom and comforts. Alamo, Budget, and Hertz all rent vehicles at the Oaxaca airport. It is about 5 miles (8kms) to Oaxaca.
You can also fly to Mexico City's Benito Juarez International Airport (airport code MEX) and take a bus. We cover those details below under By Bus, although all options are sort of hybrids.
Questions about arriving in Oaxaca by plane? Ask us!
CONTACT US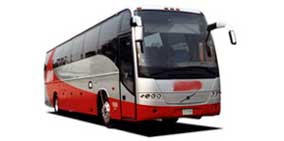 The second most recommended option is to get to Oaxaca by land -- at least in part. Taking a bus or driving allows you to enjoy Mexico's varied scenery too.
By Bus


There are two terminales de autobuses in Oaxaca. The one you'll probably be using is the Terminal de Autobuses de Primera Clase, also known as the Terminal ADO, where the first-class busses arrive and depart. It's a little over a mile (2kms) from the main square, the Zócalo. As you might guess, the bus company ADO uses it.

If you fly into Mexico City and want to take a bus the rest of the way to Oaxaca, you'll need to get to the TAPO (Terminal de Autobuses de Pasajeros de Oriente) bus station. To do this, buy a ticket for an authorized taxi while you're still inside the airport.

Whether you get to TAPO from the airport or from another destination, once you're at TAPO, buy a ticket for an ADO "GL" or "platino" bus. These deluxe busses have on-board bathrooms, reclining seats, movies, and sometimes even internet service. Busses leave for Oaxaca throughout the day. The direct trip is around six hours and costs approximately US$50-65, depending on how nice the bus is.

There are ADO busses to Oaxaca from other places in Mexico, of course, including Puebla. Be aware that ADO markets its different classes under different names, so OCC, for example, is really run by ADO.

Once in Oaxaca's bus station, take a taxi to your destination. Be sure to confirm the price before you get in the cab, which should be around M$40.

Driving
Coming from the US or Canada? Although it's certainly more than a day's drive, you can totally get to Oaxaca relatively quickly and easily on Mexico's modern highways. Many are cuota or toll roads, which we highly recommend you take if possible. Be aware that many are not lit at night, however. For that and for your general safety, we encourage you to drive only during daylight hours. Military stops and sky-high speed bumps are normal. Stop for both!
Plan on driving to Oaxaca? Click here to get driving directions.
Need more information on how to get to Oaxaca? Or can you already see yourself here? Contact Teach Me Mexico now to make it happen!
CONTACT US