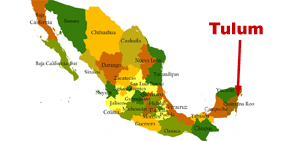 The easiest way to get to Tulum is to fly to the Cancun International Airport (airport code CUN). There are multiple daily direct flights from numerous international cities as well as from other Mexican cities. From the Cancun airport, there are many ways to get to Tulum. Here are some options:
Take a bus. The cheapest option. Take a red ADO bus that leaves hourly from the airport to Playa del Carmen (about US$9). After about an hour, you'll get off in Playa del Carmen, where you'll buy a ticket to Tulum Pueblo (the town, not the ruins) at the taquilla (about US$5). With a stop first at the ruins, you'll arrive at the bus station in Tulum in about another hour. If you're going to the beach, take a taxi from the Tulum bus station to your destination. Also, now there is a direct ADO bus to Tulum from the airport four times daily.
Take a taxi, or private car or shuttle service. Generally somewhere around US$85 one-way or US$140 round-trip. You can arrange this in advance online with some providers.
Have the school or hotel pick you up. This is really #2, for the same approximate prices.
Rent a car. You would probably want to arrange this in advance too. We don't personally find it so necessary, as public transportation and taxis are affordable and plentiful, but it certainly affords some comforts. Dollar, Hertz, Thrifty, and Budget all rent vehicles at the Cancun airport. The drive is straight down the coastal highway 307.
Have a question about getting here by plane? Ask us!
CONTACT US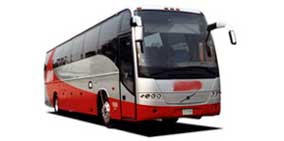 You can also get to Tulum by land, of course, which is a great chance for you to see the varied, picturesque Mexican countryside.
Take a bus. The terminal de autobuses in Tulum is a centrally located waiting room on the main avenue in Tulum pueblo. ADO is the main bus line that arrives at and leaves Tulum, although there are other smaller, regional lines too. There are ADO busses direct to Tulum from some other large central and southern cities in Mexico, including Mexico City, Oaxaca, and Mérida.

Driving. Mexico has quite good highways between major cities. We especially recommend the cuota or toll roads. Be aware that many do not have lights, though; for that and general safety reasons, we suggest you drive only during daylight hours. Military checkpoints and heinously high speed bumps are both common. Stop for both!

Plan on driving to Tulum? Click here to get driving directions.




Have questions on how to get to Tulum? Or ready to jump on the next plane? Contact us now!

CONTACT US