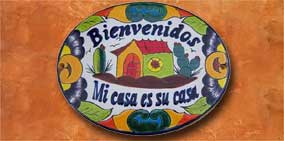 Although we -- and the schools we work with -- encourage homestay situations, we can help you arrange almost any kind of accommodations for your stay in Oaxaca, Mexico. Your housing choices include staying in a Mexican home, a room in a student residence, an apartment, hostel, hotel or B&B. Which of these possibilities sounds the best for you?
CONTACT US
Living in a Mexican home is hands-down the best way to immerse yourself not only in Spanish language but also in Mexico. The Teach Me Mexico network schools know how important this part of your experience can be and for that reason, for many a homestay is the default accommodation. (A couple even include it in the package price.)
In a Mexican homestay, your host family plays an important part of your daily life. Expect to have mealtime conversations (don't worry if you're just learning Spanish; they know!), run to the market or the tortillería with them, or attend a cousin's birthday party. In a "single" you'll have your own bedroom, maybe a shared bathroom, a regular change of sheets and towels, and possibly TV and/or internet. Your hosts can also provide some or all of your meals, even if you're vegetarian or have allergies.
Going to be with friends or family? Sign up for a shared homestay to still reap the benefits of this unique opportunity.
Occupancy

Cost Per Week (US$)
Talk to us about a homestay in Oaxaca for your full immersion experience. And of course, ask us if you have any questions!
CONTACT US
While we really do like the idea of a homestay, we get that it's not for everyone. Not to worry; we're confident that Oaxaca offers the right lodging for you. Below we've pulled in some hotel, hostel, and bed-and-breakfast options for you from TripAdvisor, just to get you started. (We figure they're the experts in this category.)
TripAdvisor Feed
Let us know if you have any questions about accommodations in Oaxaca, Mexico. We want you and your family to stay in the best place for you while you study Spanish.
CONTACT US
Some Spanish schools in Oaxaca also offer their own on- and off-campus housing, including private or shared rooms (sometimes in "student residences" or posadas) and furnished apartments. If any of these options interest you, tell us! If it's through your school, we can arrange it for you along with your classes.
There are also some lovely vacation rentals in Oaxaca. We've partnered with FlipKey to show you some possibilities.
FlipKey Feed
If you do not find what you want, though, your professional language travel agent at Teach Me Mexico will contact the Spanish schools to find out what other options there may be.
CONTACT US