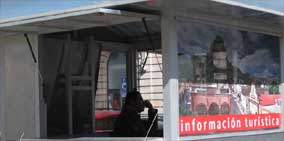 Political and social uprisings have mostly marked the recent pages of Oaxaca's history, but then we always think it's a good idea to avoid big crowds, especially politically charged ones. (The last large incident was last decade.) Apart from this, the city of Oaxaca -- including where your Spanish schools is located – enjoys plenty of calma. Families hang out in the main Zócalo plaza into the evenings. Foreign students of all ages walk the safe centro streets. We don't think Oaxaca would be so durn popular with Spanish students if it weren't pretty safe.
That said, we also try to be street-smart and just use common sense. (And we suggest you do too.) Our rule? Don't make yourself a target. So keep these points in mind as you get ready to study Spanish in Oaxaca:
Don't bring or wear jewelry, especially gold. You just don't need it in Oaxaca. Now, seeds on a leather bracelet? No problem, although you might want to leave the room in your suitcase to take some artistic local jewelry home with you instead!
You'll want your camera, of course, to document the color-rich city scene, the enduring stones of nearby archeological sites, and your new-found friends at your Spanish school, but we advise you not to bring anything you can't part with.
Copy or scan your passport and travel documents. Send them to a trusted friend whose phone number you know, or even better, email them to yourself. Ditto for the international contact numbers for any credit, debit, or bank cards you might bring. Note that US toll-free numbers don't work from Mexico, so be sure to write down the non-800 numbers.
Don't bring cards you don't need. You don't need your social security, grocery store, or frequent customer cards, for example. You also don't need five credit cards (hopefully). Leave all those at home.
Credit or ATM cards are the easiest way to get money (and usually give you the best exchange rate), but have a Plan B in your head.
Let someone at home know your specific plans but don't share them with people you meet while traveling.
We swear by a money belt or pouch -- one of those things that goes under your clothes (not a fanny pack!).
CONTACT US
Use ATMs at the bank during daytime hours. Put the bills away immediately, as privately as possible.
Be aware of your surroundings, especially in crowded places like markets or busses.
Ask your Spanish school which areas of the city you shouldn't go to.
Put only the cash you need for the next few hours in your pocket. Stash the rest of it, your cards, and your passport in your money pouch under your clothes, or in the hotel safe if there is one.
Generally try not to stand out as a tourist. Really? We get it; we're tourists too when we travel. So our advice is closer to, if you're going to break out your camera or open your map, do so as discreetly as you can.
Take a sitio or called taxi. Don't just hail one. This is sort of a general rule in Mexico, although in Oaxaca, with the exception of from the airport, we might hail one. You'd probably want to speak some Spanish though, not have all your earthly belongings with you, and define the price before you got in the cab. A called cab is always safer, though. Your school can advise you more on local customs.
Travel.State.Gov offers the U.S. Department of State's take on safety and travel in Mexico. We also like the Is It Safe To Travel To Mexico? blog.
Have a question about safety in Oaxaca? It would be no fun to worry while you're there, so just ask us.
CONTACT US