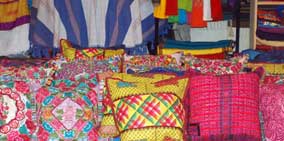 Already picturing yourself learning Spanish in artsy, flavorful, wonderful Oaxaca? Think about what exactly you'd like in your ideal classes:
Do you want small group or private classes?
How many hours of class per day do you want -- 3, 4, 5, 6, 7, or even 8?
How many weeks or months are you thinking of studying in Oaxaca?
Do you want to focus on Spanish for any particular profession, such as medicine, social work, law enforcement, tourism, or business?
Are you coming around Christmas or Day of the Dead (first days of November)?
Do you have any children or teens traveling with you?
Are you a Spanish teacher or want to be one?
Let the above questions help you narrow down what you want in your language adventure, and then contact us! With your answers, we'll figure out the best Oaxacan Spanish school for you!
CONTACT US
Teach Me Mexico does not mark up the school's prices, so you get the best deal out there. Our service is completely free to you. We just want your time learning Mexican Spanish in Oaxaca to be everything you hope for.
Class Type

Cost Per Week (US$)
Intensive Group (20Hrs/Wk)
Intensive Group Plus (30Hrs/Wk)
This list is just to give you a taste of possibilities and prices. Let us know what you want in your Spanish classes and we'll find the program in Oaxaca that suits you. (And we're pretty sure it exists!)
CONTACT US
Normally classes are weekly, Monday through Friday.
Some schools have a registration fee of US$50-100, as well as a small cost for books.
In group classes, expect to be with people at about your same Spanish level.
The more weeks of classes you sign up for, the less per week it costs. Thus the ranges in prices.
*Spanish lesson costs are subject to change. Work with Teach Me Mexico to get you the most recent, best price.