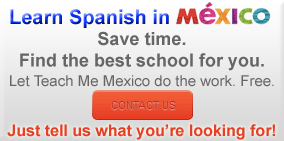 Spend your vacation in the classic, classy tropical beach town of Puerto Vallarta, Mexico, and both live and learn it up! For the latter, just ask us here at Teach Me Mexico to set you up for Spanish classes at one of our fantastic partner schools there. It's that simple -- and free!
You won't find the "living" part hard either in this seaside paradise. Think first-class cuisine, non-stop nightlife, and swanky shopping in a cute colonial package, wedged between the aqua aguas of the Bahía de Banderas (Flag Bay) with its smooth sand edge, and the lush backdrop of the palm-blanketed hills. With average yearly temperatures of roughly 83ºF (28ºC), you'll think you've died and gone to heaven.
Since Ava Gardner, Richard Burton, and their entourage descended on Puerto Vallarta in the '60s for the making of The Night of the Iguana, filmmakers, artists, musicians, and their aficionados have followed. The active arts-and-culture scene has grown to be internationally recognized over the last three decades but retains much of its local flavor too:
Be mesmerized by the colorful folkloric dancers at the Arcos del Malecón.
Tap your foot to the rhythms of the Banda Municipal at the main Plaza de Armas.
Come together for a Beatles tribute (or other show, musical, or play) at new, state-of-the-art Teatro Vallarta.
Browse the artistic artifacts of the museum Museo del Cuale or contemporary pieces in any of the town's fine commercial galleries.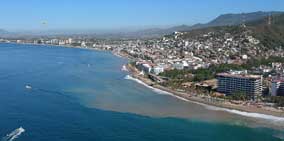 But it's the miles of lovely tropical beach that truly attracts families, seniors, gays, and party-lovers of all ages to Puerto Vallarta. A magnet for Mexicans and foreigners alike, Puerto Vallarta's beaches (over 15 of them!) invite you to bask in the warm rays, cool off in the soothing sea, sip a margarita in a bayside lounge chair, and take a siesta in the shade of a coconut palm.
After you've sunbathed on the principal Playa de los Muertos (perhaps appropriately named, depending on how hard you partied the night before!), walk along the Malecón (boardwalk) to the famous dolphin fountain, comment on the crowned cupola of the main Our Lady of Guadalupe church, then cross over to the quaint Isla Cuale. In the later afternoon, continue the fiesta at a festival -- environmental, gourmet, jazz, film, fishing, photography, depending on the time of the year.
Another day take a boat to Las Animas beach for a fresh seafood lunch under a palapa-thatched roof or to Mismaloya to snorkel with the fluorescent fish of the protected area there. And if this latter really, um, floats your boat, consider engaging in some of the other activities that Puerto Vallarta does best: deep-sea fishing, diving, whale and dolphin watching tours, horseback riding, bird watching, surfing, hiking, sailing, waterskiing, golf, tennis, or just a pleasure cruise in the bay.
When you're not studying Spanish or sunbathing, what else will you do in Puerto Vallarta? Click over to our Things to Do in Puerto Vallarta page to get some ideas. Or just tell us if you want to be there now!
CONTACT US
We know how hard it is finding the perfect Spanish school. As if planning your vacation in Puerto Vallarta weren't using up enough of your time by itself. Here's how Teach Me Mexico makes it easier for you:
We save you time.
A real person helps you.
That person is bilingual, experienced, and knows Mexico and the schools.
We search for the best school for you.
We get you the best price.
It doesn't cost you a dime. Or a peso.
And to top it off, we give you a gift of over US$100 of Spanish learning material if you register through us! Why
wouldn't
you use TMM?
CONTACT US
Get some Spanish under your belt before you get to Puerto Vallarta, or continue learning Spanish after your trip to Mexico with Spanish Lessons Online.
Native-speaking, experienced language teachers will give you live classes via Skype, on your schedule. You don't even have to leave the house!
Visit Live Lingua Spanish to find out more about studying Spanish online.