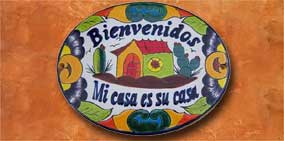 Through our contacts at our Spanish language school in Queretaro, we work with you to arrange almost any kind of lodging. In Queretaro (where we live!) we can set you up directly in a Mexican homestay, or on- or off-campus room. We can also guide you to apartments, vacation rentals, hostels, hotels, and B&Bs. Check out the tabs below for some housing options to get you started:
CONTACT US
There's nothing like living in a Mexican home not only to practice your Spanish, but also to connect you to the Mexican people and culture! Your language school in Queretaro will do its best to match your preferences with a carefully selected homestay situation.
Your hosts will play an important role, of course, and will include you as much as possible in their daily lives: mealtime conversations, trips to the market, weddings, birthday parties, and the like. Expect your own bedroom, a private or shared bathroom, clean sheets and towels regularly, and maybe TV and/or internet. Your homestay family can also provide you some or all of your meals.
If you are coming with friends or family, you can still take advantage of this opportunity with a shared homestay. In this case, you would share a room or rooms in a Mexican home.
Occupancy

Cost Per Week (US$)
Let us know if you're interested in a Mexican homestay in Queretaro for a full language and cultural immersion experience. And of course, don't hesitate to ask us if you have any questions!
CONTACT US
Although we encourage homestays for optimal Spanish language acquisition, Queretaro offers the right lodging for you. Here are some suggestions for hotels, hostels, and B&Bs from TripAdvisor:
TripAdvisor Feed
If you have any questions, please do not hesitate to contact us. We will do our best to help you locate the perfect accommodations for you and your family while you study Spanish in Queretaro.
CONTACT US
Our Teach Me Mexico partner school in Queretaro has several rooms with shared kitchen facilities right on its downtown colonial campus.Let us know if these might interest you.
In addition to homestays and hotels, Queretaro also has rental properties available. Rent a whole house or condo in the centro if it works for you. Here are some options from FlipKey:
FlipKey Feed
If you don't see what you want on FlipKey, though, let us know what you do want. Since we live in Queretaro, we personally know the owners of some lovely vacation rental properties, so contact us!
CONTACT US