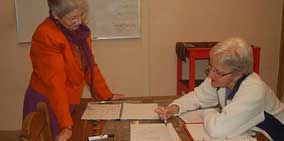 Queretaro is the place for you if you want to learn Spanish in a traditional-but-up-and-coming, mid-sized Mexican city with a charming, colonial historic center. Here's what you need to know to help us find the best Spanish classes for you in Queretaro:
Do you want small group or private classes?
How many hours of class per day do you want -- 3, 4, 5, or 6?
How many weeks or months do you plan to study in Queretaro?
Do you want to focus on Spanish for any particular profession, such as medicine, law, education, engineering, social work, diplomacy, clergy, or volunteering?
Do you have any children or teens traveling with you?
Are you or someone you're traveling with a senior?
Know the answers? The table below will give you some ideas of options and price ranges, but contact us for more precise information or to help you register now for your ideal Spanish learning experience -- free!
CONTACT US
By working with Teach Me Mexico, you get the school's best price. We don't add anything on our end so our service is free for you.
Class Type

Cost Per Week (US$)
Group (15Hrs/Wk)
Private (15Hrs/Wk)
Group Children (15Hrs/Wk)
Group Professional (20Hrs/Wk)
Private Professional (20Hrs/Wk)
Executive (20-30Hrs/Wk)

$130 - 160
$220 - 260
$215 - 255
$150 - 190
$265 - 360
$1320 - 1799
Note: Our Queretaro school's highly personalized executive program includes exclusive lodging, some meals with teachers, specialized trips, and more. We mention it so you can get an idea of the range of opportunities.
Want private one-on-one Spanish classes? Are you coming to learn Spanish for a specific profession or specialization? Or both? Let us know what Spanish classes you want and we'll find the Spanish classes in Queretaro that you are looking for!
CONTACT US
Classes in Queretaro are weekly, Monday through Friday.
There is no registration fee nor cost of materials at our Queretaro school. Everything is included!
In group classes, you will be with people at about your same Spanish level.
The more weeks of classes you sign up for, the less per week it costs. Thus the ranges in prices.
*Spanish lesson costs are subject to change. When you work with Teach Me Mexico, we will contact the school in Queretaro and get the most up-to-date, best prices for you.