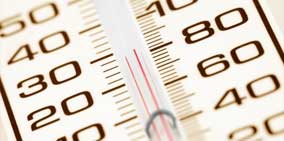 ...is "whether" to come this month or next! (Did I mention that I adore Queretaro's climate?)
The bright sun in a cloudless blue sky warms Queretaro's days to a very pleasant low 70°Fs (23°C) in the winter and up to the upper 80°Fs (30°C) around May. The semi-desert terrain then cools off at night, down even into the mid 40°Fs (7°C) from about November to February, and just around 60°F (16°C) again around May.
Because of this relatively mild climate and often-present breezes, predominately due to altitude (5781ft/1762m), most homes have neither air conditioning nor heat!
Mixed in to the tail end of the heat in May comes the "rainy season," which mostly consists of about two months of afternoon heat storms, although on occasion it will rain for days straight. Aside from these lightning-and-thunder-filled storms, the city of Queretaro is not particularly affected by the hurricanes, earthquakes, floods, or volcanoes that are typical in some other parts of Mexico.
So pack a light sweater or jacket for the summer evenings, raingear if it's April to July, and some heavier warmth for the winter nights if you're planning to be in Queretaro then. We also recommend eye drops and moisturizing lotion if you are sensitive to dryness. And always sunblock!
Contact us now to be learning Spanish in Queretaro next week!
CONTACT US