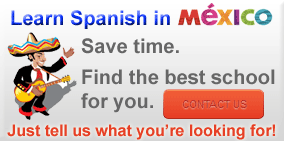 If you're looking for "indigenous" as a main ingredient of your learning Spanish in Mexico, look no further than San Cristobal de las Casas, population about 250,000, nestled in a highland valley of Chiapas. Indeed, many indigenous Chiapanecos' native language isn't Spanish either (although most do speak it).
The color of San Cristobal comes, then, not only from the bright façades of the picturesque colonial buildings topped with red-tiled roofs lining the cobblestone streets, but also from the intricate hand-loomed textiles, woven, sold and worn by these Mayan descendents (mostly Tzotzil and Tzeltal).
Study up on that Spanish vocab, then head out from your language school to the crafts market next to Santo Domingo to bargain for an embroidered huipil, a jade mask, or a chunk of that famous Chiapas amber.
San Cristobal de las Casas is a mouthful, both in Spanish and literally: The mid-sized city boasts one of the largest varieties of restaurants per capita in all of Mexico. Even vegetarians will feel right at home here.
After comida, you'll want to visit the Na Bolom ("Jaguar House"), amber or Mayan-medicine museums, or get your second wind with a cup of that world-famous Chiapan joe at the coffee museum (and café) before you climb one of the cerros (hills) to take in the entire city from above.
And on a free day or weekend, let your Spanish language school arrange for you to visit one or more of these regional jewels:
Tzotzil villages San Juan Chamula and San Lorenzo Zinacantán
Natural wonder of the falling waters at Agua Azul and Misol-Ha, El Chichonal volcano, and the Colón lakes
Exquisite Mayan ruins of Toniná, whose people conquered well-known Palenque
Quaint nearby towns of Boca del Cielo and Comitán
See more detailed Things to Do in San Cristobal or contact us now if your heart's already in San Cristobal de las Casas!
CONTACT US
We know how hard it is finding the perfect Spanish school in Mexico. Here's how Teach Me Mexico can make it easier for you:
A real person helps you.
That person is bilingual, experienced, and knows Mexico and the schools.
We search for the best school for you.
We get you the best price.
It doesn't cost you a dime. Or a peso.
And to top it off, we give you a gift of over US$100 of Spanish learning material if you register through us! Why
wouldn't
you use TMM?
CONTACT US
Get some Spanish under your belt before you get to San Cristobal, or continue learning Spanish after your trip to Mexico with Spanish lessons online.
Native-speaking, experienced language teachers will give you live classes via Skype, on your schedule. You don't even have to leave the house!
Visit Live Lingua Spanish to find out more about studying Spanish online.