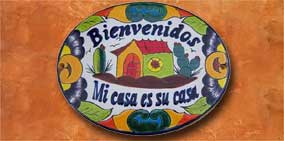 Through our contacts at the Spanish language schools in Tulum, we can work with you to arrange for almost any kind of lodging. In Tulum you can find Mexican homestays, rooms, apartments, vacation rentals, hostels, hotels, and B&Bs. Here are some housing options with their approximate costs to get you started:
CONTACT US
There's nothing like actually staying in a Mexican home, to immerse yourself not only in Spanish language but also in real Mexican daily life and culture!
Homestay situations are somewhat limited in Tulum but your school will do its best to match your preferences with those of a local family. Your hosts will play an important role, of course, and your school will involve them in your studies. Expect your own bedroom, a private or shared bathroom, and maybe wi-fi, as well as clean sheets and towels weekly. Your homestay family can also provide you some or all of your meals.
If you are coming with family or friends, you can still take advantage of this opportunity with a shared homestay. In this case, you would share a room or rooms in a Mexican house.
Occupancy

Cost Per Week (US$)
Let us know if you're interested in a Mexican homestay in Tulum for a full language and cultural immersion experience. And of course, don't hesitate to ask us if you have any questions!
CONTACT US
Wherever you decide to stay in Tulum, if you are the least bit bothered by heat and especially if you are going in the hotter months, ask if there is air conditioning. If a homestay is not for you, don't worry; there are great hotels, bed-and-breakfasts, and a handful of hostels in Tulum too. Here are some suggestions from TripAdvisor:
TripAdvisor Feed
If you have any questions about hostels, hotels, B&Bs or other accommodation options, please do not hesitate to contact us. We would be happy to assist you in locating the perfect accommodations for you and your family while you study Spanish.
CONTACT US
A few families in Tulum offer studio-style independent guest houses with private bathrooms and sometimes even a kitchenette. Let us know if this interests you.
In addition to homestays and hotels, Tulum also has a wide variety of rental properties available. Dreaming of a vacation house on the beach? Check out these possibilities from FlipKey:
FlipKey Feed
Still not finding what you want? Contact us!
CONTACT US