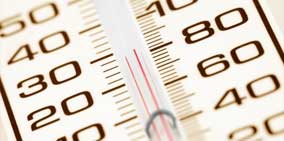 The answer to this crossword clue isn't "étés"; it's almost every día! Tulum is tropically warm and we're not going to lie: It's pretty durn humid. But then that's just another good excuse (not like you needed one) to drape yourself in a hammock with your Spanish book in one hand and a cold cerveza or limonada in the other.

The winter months hold two distinct advantages:
The average highs are only 81°F (27°C) and the lows bottom out at 70°F (21°C).
While it can and does rain just about any time, it doesn't rain as much in these months.
Often heavy but short thunderstorms make summer months (approximately June to October) a much wetter season. It's also just plain hotter, with high averages 88°-90°F (31°-2°C) and lows of a still-pretty warm 75°F (24°C).
And yes, there is hurricane season during rainy season. While hurricanes rarely hit Tulum, you will want to check activity before a visit in those months.
CONTACT US