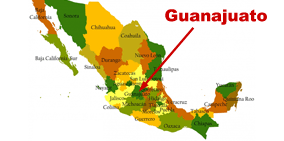 The easiest way to get to Guanajuato is to fly to the León International Airport (airport code BJX). (Note that you might also see it as the Del Bajío or Guanajuato International Airport. There are daily direct flights from several U.S. cities as well as from other Mexican cities, including Mexico City.
From the León airport, there are three basic ways to get to Guanajuato:
Take a taxi. Generally somewhere around US$30 one-way. Door-to-door.
Have the school or hotel pick you up. This is really #2, for about US$50. If you're staying a certain amount of time, some schools will pick you up for free.
Rent a car. You might want to arrange this in advance. We don't really recommend that you rent a car, as public transportation and taxis are affordable and plentiful, and driving in Guanajuato can be confusing and expensive (parking). But we know it certainly can afford some comforts. Europcar, Hertz, Budget, Alamo, National, Avis, Thrifty, and Dollar all rent vehicles at the León airport. It is about 25 miles (40kms) to Guanajuato.
You can also fly to Mexico City and
take a direct, first-class Primera Plus bus from the airport to Querétaro, then Querétaro to Guanajuato. This runs about US$35. You'd then take a taxi for about M$40 from the bus station in Guanajuato to your destination. Or you could
take an authorized taxi (buy a ticket inside the terminal) to Mexico City's Central del Norte bus station and get a Primera Plus first-class bus all the way to Guanajuato. It's about US$15 for the taxi, and US$32 for the bus. Then you'd take a taxi from the bus station in Guanajuato to your destination.
The bus trip from Mexico City to Guanajuato takes about five hours.
Questions about getting to Guanajuato by plane? Ask us.
CONTACT US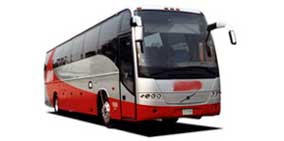 Depending on where you're coming from, you can also arrive in Guanajuato by land, of course. It's a good way to enjoy the scenic Mexican landscape.
By Bus


The terminal de autobuses in Guanajuato is located about 3 miles (4.5kms) southwest of downtown, via a highway. Primera Plus and ETN are two major bus lines that service the city, although there are others. From here you can get to many surrounding cities, including León, Morelia, San Miguel de Allende, and Querétaro, as well as to and from larger Guadalajara and Mexico City. (See above "You can also fly to Mexico City..." section.)

Driving
Mexico has modern highways between its large cities. We strongly suggest you take the cuota or toll roads when possible. Note that many do not have streetlights, however; for that and general safety reasons, we encourage you drive only during daylight hours. Military checkpoints and crazily high speed bumps are the norm. Stop for both!
Plan on driving to Guanajuato? Click here to get driving directions.
Have questions on how to get to Guanajuato? Or already in love with the place? Contact us now!
CONTACT US