As in about 40 feet above sea level. Tulum's incredibly preserved ruins from 1200 to 1400AD overlook the crystal Caribbean from the Mayan walled city's perch on tall seaside cliffs. On a clear day it's so impressive, you'll think you're in the postcard.
The Yucatan's fame for archeological sites doesn't stop in Tulum, however. A mere 28 miles (45 kms) away, the largest of all Mayan cities, Cobá, saw its heyday before 1000AD. You can even get to Chichen Itza, a UNESCO World Heritage Site and perhaps the most famous Mayan digs in all of Mexico, in only about two hours.
CONTACT US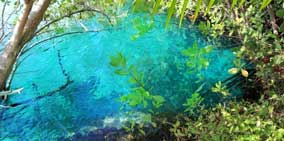 Smarter than the average bear, you appreciate both the language of Mexico and its natural treasures. You're also at least slightly adventurous -- you're going to Mexico, after all! -- and enjoy discovering new jungle paths, stumbling upon hidden oases, and spotting wild animals that you've seen previously only in the zoo.
So you'll be sure to dive into one or more of the Tulum area's famous cenotes. Don't be fooled by the appearance of only a small pool; these cold, freshwater sinkholes mask a complex web of connected caves underneath, which at times even served as the underwater afterlife for some natives!
Then take a study break to swim with dolphins -- or sharks! -- at Xcaret eco-archeological park, just 36 miles (59 kms, 1 hr) north of your language school. Larger fins not for you? No worry! Snorkel among fluorescent tropical fish. Play a pre-Hispanic ball game. Round up some fun at a rodeo. Cleanse your pores and relax your soul at the Mayan-ritualed sweat lodge and spa. Delight at the night show while savoring nouveau Mexican cuisine. Sip some tinto at a wine tasting (yes, there are some excellent ones). Float like a butterfly in a sanctuary just for them. Or monkey around on an island where some of our primate cousins actually live!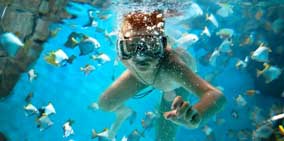 Or practice your Spanish just 10 minutes north of Tulum at Xel-Ha (run by the Xcaret people), a labyrinthine park of fresh-over-salt-water mangroves, lagoons, and caves. Inner-tube down rivers through tunnels, and find Nemo as you snorkel in natural aquarium with more than 90 species of fish and marine animals. There's also a children's area for entertainment and education, grottos, walking and biking trails, a plant nursery, sports events, and yoga.
But the real must-see diamond in the rough is just south of you: the Sian Ka'an Biosphere Reserve. One of Mexico's largest parks, this coastal jungle gem protects rare jaguars and manatees, among other indigenous species. Check them and lots of birds out from a small boat or kayak; just ask your school to arrange it.
Your school in Tulum also offers additional fun ways to practice your newly learned Spanish, such as yoga, salsa dancing, cooking, and more.
Sound like you? Sign up today to study Spanish in Tulum!
CONTACT US